You Become The Expert Behavioral Analyst thereby eliminating your organization's biggest human resource challenges!
With DISC Wizard Certification – you become the expert – no longer needing to rely on outside consultants and trainers to interpret the results.
**Click here for NEW DISC CERTIFICATION DATES JUST ADDED**
You will have the crystal ball and know how to use it!
Here are just a few of the ways you will be able to apply the magical tools you receive in our fun, unique, and convenient DISC Wizard Certification process:
Hiring – Using the DISC Model to benchmark the job, you will compare candidates to the job's behavioral requirements and find the right person for the position…the first time.
Management Training – Instead of outsourcing your training needs, learn how to use the DISC Tool to deliver trainings on communication, time management, team building, etc.
Employee/Manager Conflict – Get to the source of conflict by understanding the behavioral style and underlying needs of those involved.
Performance Management & Reviews – Using the same benchmarking process that you used in hiring, examine the behavioral fit of employees. Create coaching and development plans in order to close the gaps in performance.
Restructuring – Understand who is best suited to do what and where in
the organization.
The DISC Wizard DISC Certification Program is specifically designed for HR and training professionals who want to repeatedly use DISC Behavioral Assessments to benefit their organization – saving you time and your organization money!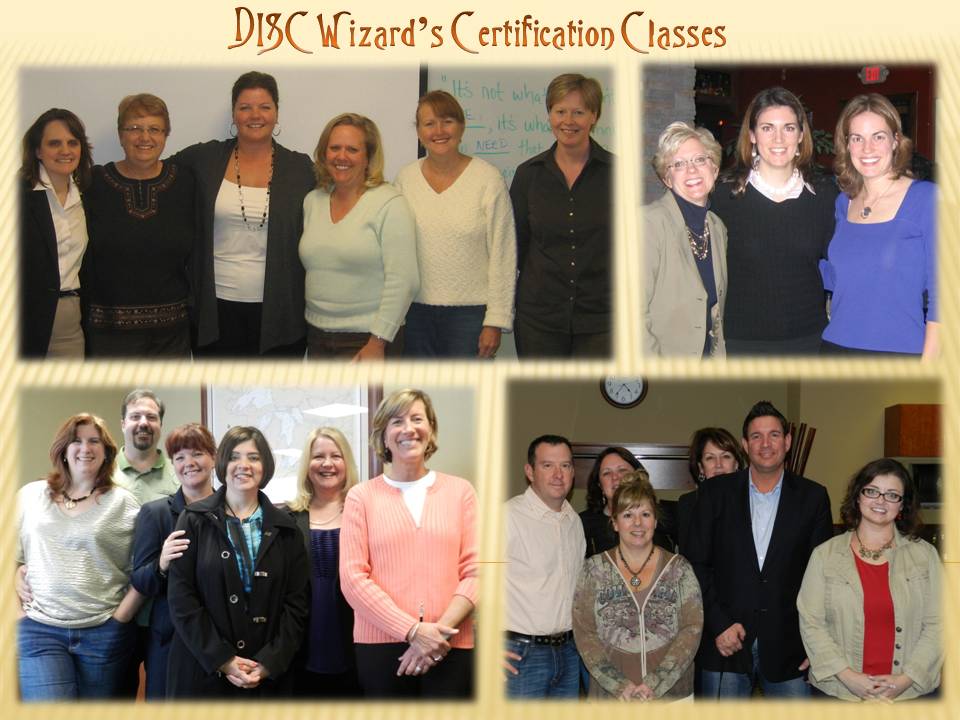 Just some of our
DISC Certification Class graduates.
Read what the Original DISC Wizard has to say about certification…
I have been certified in DISC for over eight years and it's been the number one tool requested again and again by my clients. I've continually been impressed by the impact it has had on individuals, teams and organizations. When I didn't have the time to personally keep up with the growing demand, I created this Train-the-Trainer option. Now I spend my time educating others in Human Resources to use this tool to provide the solutions their organizations need. Ultimately, I'm able to help more people.  ~ Nancy Roberts
Founder of the DISC Wizard Certification Program
We guarantee that the design of this certification program is unlike anything else you will find.
Certification is as easy as 1-2-3!
Step 1. DISC Wizard Training
Two full days of training. The first day covers all the basics. (See the full course description.) The second day, we focus on interpretation and application. We want to make sure you know your stuff.
Step 2. A Month of Practical Application
After the training, you will have 4-6 weeks before the exam to allow you time to use the DISC assessments and gain invaluable experience interpreting the results while having full access to DISC instructors – available by phone or email – who can assist you when you need help.
Step 3. The DISC Wizard Certification Exam
You will complete the exam only after you have had time to do some coaching and debriefing sessions. We want you to feel confident knowing that you have the real-world application that is required to pass the exam. You will then complete the actual exam at your own convenience.
Enroll Today! Sign up for our next DISC Wizard Certification Training Program
Listen to what one of our Certified clients says about our unique program…
I'm so glad the training was set up like it was. The time between sessions to use the assessments was critical. I felt so much more confident debriefing the profiles after some experience.   ~ Lori Ioele, HR Manager, Sentry Group, Rochester, NY
Clients say Certification makes SENSE…
What a tool! I was amazed at the accuracy of the DISC assessment. It nailed the behaviors of a sales team member on the head!! Using the DISC assessment will definitely give you an idea of the type of behaviors you may be employing (or are thinking of employing). Certification made sense for us!   ~ Alice Curry, HR Manager, Hammer Packaging
We say Certification makes CENTS…
Once certified, you will receive DISCounts on DISC resources.
Eliminate the need for outside consultants and trainers, saving even more money.
We offer a 6-month Ongoing Education Program to anyone who has completed our Certification Training Program.
More Advantages to the DISC Wizard DISC Certification Program
You can achieve the title of a Certified Professional Behavioral Analyst (CPBA).
Training is over a month's time frame (other two day programs will provide you with the information but give you no time for application in the real-world).
We offer on-site (for groups of managers or trainers) and virtual (phone & web-based) certification programs.
To enroll today, call 1-888-347-2949 or register online now.
We think we've given you all the information you need about DISC Certification, but if you're a High Compliant person – we know you need more. Click here for some Frequently Asked Questions about DISC Certification.
But wait! There's more…
The DISC Wizard DISC Certification program is now approved for 14 credit hours by the HRCI. You may apply these credits toward PHR, SPHR, and GPHR recertification.
I use DISC with both individuals and teams to open the doorway to conversation and help them set strategies that will enable them to be more effective in their daily interactions with others. My clients have found the assessment easy to complete and accurate. The report is very comprehensive and is formatted in a way that is valuable in both individual and team applications.

~ Ann Marie Walker, CPBA, Personal and Team Development Consultant Former HR Trainer for Eastman Kodak
Besides all these practical benefits, there is also the added benefit of connecting with other HR and training professionals during the two-day training. The friendships made in some of our classes have extended way beyond the training. We even have "DISC Dinners" occasionally to get everyone together again.
*SHRM, ASTD, and NHRA Members receive a special rate of $1297 for a limited time (extended until December 11, 2017). That's a $500 discount! Just enter this coupon code with your order: HRDSCT
If your company is sending more than one person to the same training date, all additional participants will pay only $797 each. (Please call or email us to take advantage of this offer. Please note that no other discounts will apply.)
Are you a SHRM, ASTD, or NHRA member in job transition? If so, we're extending our "In-Between Jobs" Special price of $497. When you enter the coupon code NEWSTART by December 11, 2017, you will receive a $1300 discount. (Please note that no other discounts will apply.)
TRAINING DATES
Spring 2018
Rochester, NY

Dates: May 3rd & 4th
Time: 9:00am – 5:00pm
Location: Preserve at Woodcreek in
Webster

Fall 2018
Rochester, NY


Dates: TBD
Time: 9:00am – 5:00pm
Location: TBD
Another Certified client had this to say…
The DISC profile has played an instrumental role in helping us select the right person for key positions in our organization. These assessments have not only been highly effective and "right on" when it comes to pre-screening and selecting potential hires, but have been invaluable in assessing and addressing the specific behaviors of our key management team. This process has provided opportunities for professional growth as well as personal growth for our leadership team.   ~ Terry Knapp, HR Director Lollypop Farm,  Fairport, NY
To enroll today, call 1-888-347-2949 or register online now
For those of you who are High Compliant and like details, here is the complete COURSE OUTLINE
This month-long program (pre-work, two-days of training, homework, post-work, and final exam) focuses on the basics of the DISC language, interpreting results, plus extensive practice reading the graphs and applying the information.

Pre-work
You will receive a DISC Assessment access code via email prior to the first session. You will respond on-line, complete the Success Discovery Process Feedback Report Worksheets, print out your personalized report and bring it with you to the training.Your DISC Universal Language Textbook will be shipped to you. Read Chapters 1-4 & Complete Review Questions.

Day 1: Learn to Understand DISC
The purpose of Day 1 is to gain a thorough understanding of the DISC model. We will review the keys to understanding the DISC language with a focus on interpretation of the graphs. These sessions will be highly interactive and use the synergy of group instruction to accelerate learning.
DISC History (Marston's model)
In-depth understanding of D, I, S, and C
Reading and interpreting the DISC graphs
Understanding the Success Insights Wheel
Review of your personal results
Instruction on how to debrief the assessments
Day 2: Learn to Use DISC
The purpose of Day 2 is to gain a deeper understanding of the model and build confidence in your ability to interpret and apply DISC.
Behavioral Style Match
Demonstrate your understanding of the DISC model through the Success Discovery Process
Complete a mock exam
Select appropriate DISC assessments for your needs
Post-work
For a 30-day period after your training sessions, you will be able to use the DISC assessments (unlimited number at $10/ea.) to get comfortable in interpreting, applying and debriefing the information with friends, family and associates.  (Note: The assessments used during the training program are not to be used on employees or candidates.  Complimentary assessments are used for learning purposes ONLY!)
Certification Exam
A 3-hour exam – taken at your convenience – that will test your DISC knowledge, as well as your ability to interpret the results of the DISC graphs. And for you who hate tests: You can relax, this is an open book test! You are being tested on your ability to interpret the graphs and apply what you've learned – you are not being tested on memorization.
Because we know you will want to research other Certification Programs, we have done some of the work for you. We are confident that after looking at other programs, you will see the value of the DISC Wizard Certification.
DISC WIZARD CERTIFICATION

INSCAPE PUBLISHING CERTIFICATION

EXTENDED DISC CERTIFICATION

$1797
$2495
$2500
SHRM, ASTD, and NHRA Discount –
$300 off
None Mentioned
None Mentioned
2 Days, plus pre and post work, review of exam 4 to 6 weeks after training, Apprenticeship Program follow up
2 Days
2 Days
Ongoing Education Program – includes 6 months of emails and newsletters!
Everything DISC Facilitation System – Guided self-instruction
No ongoing
education mentioned
Rochester, NY – Virtual and on-site
programs available
Minneapolis, MN – Blended Version available (with self-study and training) $1999
Indianapolis, IN – Virtual and on-site
programs available
12 Credits towards PHR, SPHR and GPHR.  Recertification approved by the HCRI.
None Mentioned
None Mentioned
100% Money
Back Guarantee
None Mentioned
None Mentioned
Internet Delivery System managed
for you
Trained in the use of EPIC Administrator Account
Online account created
for you

And don't forget our no-risk guarantee…
Our "You Pass" Guarantee
We are so confident that you will achieve a level of mastery of the DISC tool and applications throughout our program that if – after fully participating in our process – you do not pass the exam, we will work with you until you do!  (No DISC Apprentice gets left behind!)
To enroll today, call 1-888-347-2949 or register online now.
BONUS #1:  Electronic copies of all the Powerpoint slides used in the DISC Certification Program.  This will allow you to customize the slides and use in your own trainings.  Nothing to recreate!
BONUS #2:  Access to all the DISC Wizard Apprenticeship Program Teleclasses – in digital MP3 format.  Listen online or download to your iPod or other MP3 player.  Topics include: Leading a Dynamic Team Building, How to Reduce Conflict, Taming the Time Bandit, Using DISC to Hire Great People, etc.
BONUS #3:  Downloadable e-book on the background and importance of values (the drivers behind our behavior!) "If I Knew Then What I Know Now" by Bill Bonstetter, creator of the DISC Certification process.
If you see this as a fit for you and your organization, I urge you to IMMEDIATELY sign up today so we can get you into the next class.  Class size is limited – so call today!
Sincerely,
Nancy Roberts
The DISC Wizard
P.S.  Get the same great results as these companies who have utilized our DISC Assessments. All of them have benefited – why aren't you?
5LINX
ABVI
Alphagraphics
Catholic Charities of Rochester
Corning Life Sciences

Harter Secrest & Emery
LiDestri Foods

Lollypop Farm, Human Society of Rochester
Mesa County, Colorado
Patriot Towers
Pictometry
ProActive Clinics
Rotork Controls
Tompkins Insurance

Wegmans Food Markets
William E. Simon Graduate School of Business Administration
University of Rochester
P.P.S. Don't forget…you are completely protected by our "You Pass Guarantee".  If for any reason after fully participating in the class, you do not pass your exam, we will work with you until you do.