Looking for an Easy Way to Create Passive Income in Your Consulting or Coaching Business?
Most consultants and coaches go into a panic when told they should create "information products" to create passive income.  Some of the most brilliant ones actually claim that they don't know much and therefore, can't imagine what they would package and sell!
That's hogwash of course.  But rather than try to teach them how to create their own products, I have a much easier solution. 
What if you could find the perfect information product that added tremendous value to your clients, easy to learn and even easier to sell?
Introducing the online DISC Behavioral Assessment™.  DISC is a model that measures behavior across four dimensions – Dominance, Influence, Steadiness, and Compliance. (Read more about DISC here)
When I started my own consulting and coaching business 11 years ago, I knew very little about selling my services.  But I was passionate about what the DISC tool could do for individuals, teams and organizations.  DISC was the first sale I ever made. And it continues to be the easiest solution to sell and the number one tool requested again and again by my clients.
Now you can be certified in the DISC model and within a very short timeframe be able to sell this product to your clients.  You will make money on each sale, plus it gives you an insightful tool to use in:
Team Building & Development
Hiring & Selection
Leadership training
Conflict Resolution
Career Planning
Communication seminars
Sales & Customer Service Training
Here's what one of my certified clients had to say about using DISC in her own business:
"I use DISC with both individuals and teams to open the doorway to conversation and help them set strategies that will enable them to be more effective in their daily interactions with others. My clients have found the assessment easy to complete and accurate. The report is very comprehensive and is formatted in a way that is valuable in both individual and team applications." Ann Marie Walker, CPBA, Personal and Team Development Consultant, Former HR Trainer for Eastman Kodak
There are three different programs (Platinum, Ruby, and Emerald) based on where you are in your consulting business and what you need.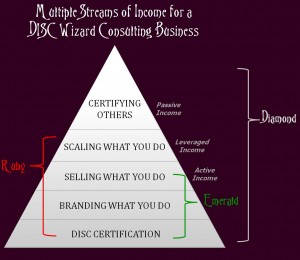 info(Replace this parenthesis with the @ sign)discwizardonline.com or call the DISC Wizard today (1.888.347.2949) to discuss which program is right for you!