"Quit Wasting Shots!
Improve Your Score Now!!!"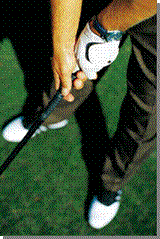 Golf is as much a mental game as it is a physical one. You can have the best swing but if you can't focus, fight frustration or make the right corrections, your destiny lies in the rough.
A unique ONLINE profiling system dedicated to HELPING golfers and instructors IMPROVE the mental aspects of playing GOLF.
Use the same profile the Titleist Performance Institute uses with their touring professionals and amateurs of all levels. Discover how your behavioral style works for you and against you…and how to use this information to your advantage.
It's quick…it's online…it's proven…and it works!
What the experts are saying about the Golf Behavioral Profile:
The beauty of this system is that our players get an accurate and comprehensive report without having to spend hours completing laborious questions. You sure get a lot for the time and money you invest in this process.Dr. Greg Rose, Co-Founder, Titleist Performance Institute
This certainly makes you think about your game and what your priorities should be. The profile helps you understand how to improve your mental game.Brad Faxon, 7 Time Winner on the PGA Tour
The profile works great for self-coaching as well as for collaborating with your instructor or coach.  So before your first lesson, complete this profile and take it with you to your instructor.  He or she will immediately understand you better, what you bring to the game, and how best to help you.
A golfer using the profile will gain valuable insight and the necessary tools they can use to improve the mental side of their games. I recently used the profiles with three touring pros who are students of mine last week and they all gained valuable insights. This tool will help any golfer who wants to improve.Tommy Masters, Teaching Professional
Pebble Beach Golf Academy
This profile was selected by the Canadian National Team as a mental coaching tool.
Learn your behavioral characteristics, how these can be strengths OR limitations to your game, and specific tips to improve your score based on your personality traits.  Within only 10 minutes – and for less than two rounds of golf – is there any reason not to get this crucial information?
Purchase Golf Behavioral Assessment Now
With the local golf season just beginning, isn't it time to try something NEW this year to improve your game? Now you can have this valuable tool for a very small investment of time and money.
For a limited time, you can receive the Golf Behavioral Profile for the reduced price of $49.99.
The same profile typically sells for $65-$99.00.
And as a special bonus, we are offering a downloadable guide "Golf Behavioral Tendencies" that will help you determine the tendencies of the other people you play with.  Once you identify them by their characteristics, you will be able to understand their style, their weaknesses, what makes them play better or worse.
You will also learn more about your own style and be able to use this information to your advantage.
I am so confident that you will immediately find incredible value in the Golf Behavioral Assessment Process, plus the bonus, that I am backing it with a 100%, No Questions Asked, Guarantee for 90 days.  If you are not completely satisfied with the results, you can request a full refund.  And you get to keep everything – there's nothing to return!
Purchase Golf Behavioral Assessment
Don't wait until August to improve your game!
Wishing you much success on the course,
Nancy E. Roberts
The DISC Wizard
P.S.  Remember – this offer comes with a 100% money back Guarantee for a full 90 days.  If for any reason you are not thrilled with your purchase, you may request a full refund.