Business Owners and Managers…
"Stop Wasting Time & Money on Chronic Low Performers by Learning The Seven Secrets to Hiring & Firing"
"With My Hiring & Firing System, You Can Know More About a Candidate in 10 Minutes than You Would Know in 6 Months of Working With Them.
But You'll Want to Act FAST, Because Research Shows That Just One Mis-hire Can Cost You Up To 5x Their Annual Salary.
Read on to Get the Full Scoop…and Wait 'til You See
What Else I'm Giving You!"
Dear Friend,
Do you feel like you or your managers are OK at hiring but admit to having had some real disasters?
Are you curious HOW to determine if people are authentic or "phonies" in the hiring process?
Have you wasted thousands of dollars on people who never seemed to reach their potential?
Do you wish you could eliminate the pain and frustration of having to fire people?
And, most importantly, are you tired of watching profits walk out the door as you deal with chronic low performer's excuses?
Well, you're in the right place. And I can't wait to help you!
Given our previous experience of hiring against the information in one of your assessments, I've now instructed our VP of Sales to pay more than the usual attention to the data we discover in this process. If we had followed that before, we could have saved ourselves six months of frustration, lost productivity and thousands of dollars.

~ Chuck Finzer, Former President, Total Identity Group, Rochester, NY
But first, I have to share, that just like you I am frustrated by seeing all the pain out there around performance issues.
You see, I was once responsible for hiring and managing people too.  And it was so challenging I swore to myself that one day, I would own a business with no employees.  I've achieved that goal but that's a story for another time.
When I was hiring people, my problem was that I saw the potential in everyone.  I wanted to believe what candidates told me. I didn't know the right questions to ask or even what answers to listen for.
Because of that, I either got completely fooled or hired some well-meaning but inept people.
And as bad as that was, managing them was worse! It seemed that no matter which way I approached them about their responsibilities, all I ever got was excuses.  Trying to motivate them felt like pushing a string uphill…in the winter.
Maybe it's because I'm a nice person but I had a really hard time conveying to people that if they didn't shape up, they would be let go.  I would talk to them and for a short time, things would get better.  But pretty soon they slipped right back into the behavior I had previously spoken to them about.
Sometimes I felt like they just didn't get it.  Seriously, how hard is it to ship a package full of training materials to a specific destination by a specific date???
One particular time, I had hired a very nice, very professional woman to be an Office Manager.  She had years of impeccable experience in a small division of a big company.  I thought that meant she'd be able to work well in a smaller company.
Boy was I wrong.  Dead wrong!
Nice as she was, she was unable to handle the lack of structure and procedures of the small firm.  She needed a lot of guidelines, specific tasks, and support.  We were much more the sink or swim variety.
When I realized I was going to have to let her go, I didn't sleep for a week!
HAVE YOU EVER HAD TO LET SOMEONE GO?
That's when I started to look for a solution to the hiring challenge.  I thought that if there was a way to know, really know a candidate BEFORE I hired them, I could avoid the months and months of frustration.
Unfortunately, I didn't find the solution I was looking for – it simply didn't exist.  So instead, when I started my consulting business in 2002, I set out to create one.
I took everything I knew about human behavior (I am a behavioral analyst after all), combined it with the power of predictive assessments, job benchmarking, and the right interviewing methods, and designed a complete A to Z hiring system.
The question was would it work for my clients?
It did!
We used the DISC Wizard's hiring process to hire for our Customer Support Trainer position.  Fast-forward one and a half years later, and the two candidates it helped us select are among the top Trainers that we have, and they have fit perfectly into the role.  Now that's success!

~ Dave Finger, Manager, Pictometry International Corp., Rochester, NY
What I found when I went into most companies was that their hiring process (if it can even be called a process) was abysmal.  Not only were they doing things that would never guarantee them a good hire – they were doing things that were illegal.
There are some very basic things you can do to improve your hiring chances.  Simple things like:
Ask the right questions
Get quality reference checks (yes, it can be done!)
Follow the same process for everyone (you know, apples to apples)
It's just that most hiring managers are never taught these things.  Many learn from other managers who have no idea what they are doing.  Some rely on outdated processes and then find this fails them again and again.
The real problem with bad hiring practices is then it becomes a management problem.  Spending little time and effort (due diligence) on the front end means the more you'll pay for it on the other end managing and terminating underperformers, as the chart below shows.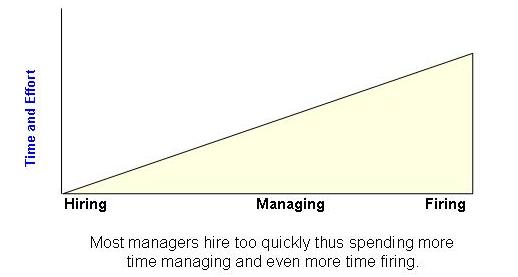 Most managers hire too quickly, too casually, and rely on their gut. When hiring willy-nilly like this you spend more time trying to clarify objectives, motivate, and manage the new hire.
Research shows that 75% of new hires do NOT
turn out to be top performers.
(That means only 1 out of the last 4 hires you made will actually perform to your expectations.)
And when it comes to firing – forget it. With the subjective hiring criteria used, it's no wonder it takes all the tracking, paperwork, and legal requirements to "prove" someone isn't up to the job!
The reverse is also true as the following chart shows. If you put the time, effort, and resources up front in your hiring process, you will bring in more top performers and spend less time managing, and even less firing.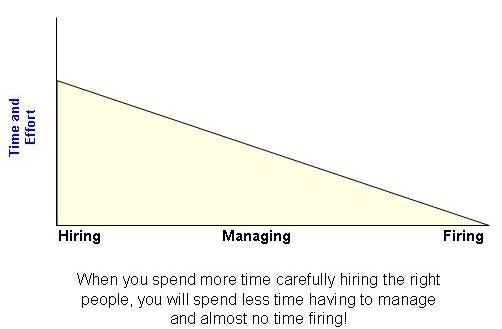 In one recent survey I conducted, employee issues such as lack of performance, bad attitudes, dysfunctional teams, turnover, and stay-over were rated the number one business issues!
We have been enjoying the DISC Wizard's consultation for a long time and have had very accurate results. One in particular – the analysis showed that this one candidate had the potential to become very frustrated and would ultimately voluntarily terminate employment. We thought we could manage through the situation, however, we could not and the employee quit due to the stress around the job.

~ David J. Cecere, Executive Vice President, Tompkins Insurance Agencies, Inc., Batavia, NY
It seems to be painful for everyone. Yet it's surprising to me that most businesses will invest in million dollar machines and not invest even a thousand dollars to hire, train, or develop the right employee to run the machine.
But now with the economy the way it is, companies NEED to do something different!

Folks, please listen up: Profitability in this economy requires that we get serious about only recruiting and hiring the absolute BEST, while coaching, redeploying, or firing those who aren't cutting it.
I see so many of you still struggling with this. You're still hiring people who you either like or are like you. As the old song goes, you are "looking for love in all the wrong places".
You may be hanging on to people who haven't reached their potential…trying to be the good guy (or gal) by giving them too many "last chances." You're avoiding the awkward and uncomfortable task of firing someone.
What if I told you that hiring and firing could be completely PAINLESS for you and your managers? In fact, even downright easy? (I know it sounds impossible but it's true!)
And that's EXACTLY what I'm laying out for you, step by step, in this groundbreaking, never before offered system…
How to Boost Your Bottom Line…
With The Seven Secrets
to Hiring & Firing System
From this system, you'll discover…
My secret formula on how to "reverse engineer" the hiring process based on what the JOB needs and wants from someone! (Once you learn this, you'll never again doubt whether you have the right person in the right position.)
The DISC Wizard's simple, no-cost ways to DRAMATICALLY increase your number of qualified candidates for any position by 20-50%…or more.
My TOP 3, must do, simple interviewing techniques that will cause the candidate to give you the information you've been looking for…and they cost nothing to implement!
How to avoid "springing" a termination on an employee, and instead gently EASE them into not only expecting it, but possibly doing it for you!
A 5-step process to handling difficult performance discussions with employees.
The #1 mistake most managers make that KILLS their employee's enthusiasm – and what to do instead.
The secrets to questioning a job candidate so they reveal everything you need to know!
Simple tricks to reading BODY LANGUAGE in an interview if you want to!
Why you DON'T need to ask common, predictable interview questions. (But there are some questions you do need to ask – otherwise you'll likely blow it.)
MAGIC WORDS that — when used in your job ads — will have the right candidates lining up to interview (You'll be amazed at what a difference changing a few words will make.)
Should your managers spend time with your top performers or help turn around low performers? You will get a simple 4-cell model to rank each employee, and how to decide which one will make the most SENSE for you.
Finally, the solution when an employee's performance is good but their attitude is bad.
How to find good candidates without paying a fortune.
How to conduct your own REFERENCE AND BACKGROUND CHECKS.  There are some FREE online resources that can help you.
Why you should never use THREATS OR ULTIMATUMS with your employees, but instead use __________.
How to determine who should get coached, who should get redeployed, and who should get fired.
Easy ways to use any job description to help build a list of specific and measurable KEY ACCOUNTABILITIES – even when you can't figure out how to measure them.
THE SECRET to using pre-employment tests. This is a great way to get more information in the hiring process than you could working with the person for 6 months!
I will give you MY #1 TIP on how to get new employees up and running in 90 days WITHOUT any extra effort on your part!
The ONE THING you need to know before you hire your next salesperson.
What NEVER to do before you make a job offer – this seemingly feel-good gesture will KILL your chances for success!
And MUCH, MUCH MORE!
I once had a hiring manager say something very profound to me,
"I can teach someone the skills to do the job.
I can't teach them to want to do the job."
Step-by-step, I will teach you how to find, hire, and retain the people who WANT to do the job all the while developing, redeploying, or firing the "not-so-right" people.
You'll be guided through a plethora of ways to recruit, interview, and manage – all spelled out for you to implement quickly and easily.
How to Boost Your Bottom Line…
With The Seven Secrets
to Hiring & Firing
Here's What You'll Get In This System:
1
Seven

AUDIO CDs

With The DISC Wizard
sharing Secrets in the Areas of
Hiring, Firing, and Retention
My Objective? To Show You How to Hire and Fire…While Saving Energy, Effort, and Emotion (like frustration and disappointment)
On these 7 CDs, we'll cover ready-to-use, powerful strategies you can use right away to:
Get chronic low performers to fire themselves!
Hire more self motivated, positive, resourceful people even in this economy
Improve work performance and relationships
Help employees set professional goals over the next 90 days in a way that will guarantee their success
Sound good? I thought so. But wait, there's more…
Not only will I be sharing all my own personal tools that I use in hiring and performance management but I'll also be incorporating information from other experts, some who are my "personal mentors" in many different areas of individual and organizational development.
Oh, and we'll also be looking at real-life success stories of people just like you, who have integrated this information into their businesses and organizations…their way.
2

Written Outlines

of the Audio CDs included in a Comprehensive Binder
We also have each CD's outline and content transcribed so you will receive a full written version of the entire system. This way you can read and follow along with the audio if you wish, or simply read the outline by itself!
And the binder contains all the samples, models and forms you need to understand my systems and processes.
(Am I making this easy for you, or what? But wait 'til you see this…)
3
MP3 Audio Recordings and PDF Files of the
Binder Available for Download!
Best of all, if you aren't the kind of person who likes to wait – you receive everything right away and download the program from your computer.
Or wait for the entire package to arrive at your door in 1-2 weeks.  You can use either or both – whichever format is right for you.
 "OK, You've Got Me Interested.  How Can I Get
Started and Put This Information to Work For Me?"
I've created a couple of different options that will work for everyone.  Based on how much help you want and how much you're willing to invest, you can choose which level works for you.
Option #1: The Boost Your Bottom Line With The 7 Strategies to Hiring & Firing System includes…
Quick Start CD/MP3 Download – What you need to do right now to get started!
"Boost Your Bottom Line With The 7 Secrets to Hiring & Firing System" CD Collection

SECRET #1  –  HIRE  SLOW / FIRE FAST
SECRET #2  –  KNOW WHAT YOU WANT
SECRET #3  –  FIND GREAT CANDIDATES
SECRET #4  –  KNOW WHO YOU'RE HIRING
SECRET #5  –  INTERVIEWS THAT REVEAL WHAT  YOU WANT TO KNOW
SECRET #6  –  NOW YOU'VE GOT EM.  NOW WHAT?
SECRET #7  –  NO MORE MR. NICE GUY

Written Outlines of each CD for those who prefer to read
Binder containing all forms, assessments, and models you need to refer to
MP3 and .pdf files for you to download for easy access
AND don't forget about all the FREE Bonuses I'm including with this system:
BONUS #1: Receive the Audio Program "How to Reduce and Eliminate Conflict" plus transcript ($97 value).  This program gets to the heart of conflict with employees, how to dissect it and dissolve it.
BONUS #2: The Audio Program "Manage Others Better Based on Personality" plus transcript ($97 value) will help you recognize your employee's behavioral types and adjust your management style for maximum effectiveness with each person.
BONUS #3: 90 Day Improvement Plan – use this form with an underperforming employee to turn performance around in 90 days or less. ($19 value)
BONUS #4: And for struggling employees who may need to be redeployed or fired, the Audio Program: "How to Determine the RIGHT Career for You" plus transcript ($97) and the Career DISCovery Guide ($99 value).
BONUS #5: Candidate Scoresheet – use this for to objectively rate job candidates throughout the hiring process. ($19 value)
Make this the year you FINALLY learned a way of interviewing, hiring, and managing that was EASY and COMFORTABLE… and saved you MORE money than ever!
I thought at length about what to charge for this system. What I will be sharing can literally be worth THOUSANDS and THOUSANDS of dollars to you over the next few years. And not only is there value, of course, in your increased retention of talent, but in the ease and certainty you'll feel from now on — every time you hire your next candidate.
I'd like to share how one of the DISC Wizard's profiles was proved to be more effective than a headhunter. The headhunter claimed that a certain General Manager candidate was a "perfect fit" for my client.  I was called in to evaluate their operation several months after the hiring of the GM. The GM's shortcomings were quickly realized and I used the DISC Wizard's profile to substantiate the misfit. The GM was reassigned and the headhunter refunded the $7,000 fee based on the strength of the profile. The headhunter was so impressed by the system that he inquired about using it in his service.

~ Sam Garofalo, Owner, Technical Consulting, Syracuse, NY
I know I could charge a lot for this information, as these strategies so far have ONLY been shared during my high-end engagements. But the purpose of this system is to get this information to as many of you as possible. And I know for some of you, this may be your first experience with me. So I want to make purchasing simply irresistible!
After much deliberation, I arrived at an investment of only $997.
Yes, I know that may be a bit lower than you would expect, especially when you look at what this information is worth. I'm sure that number is much LESS than the price of what one mis-hire costs you. That means this product will likely pay for itself IMMEDIATELY.
Now, I know there are a lot of you out there who are Do-It-Yourselfers and if that's you then the "The Boost Your Bottom Line With The 7 Strategies to Hiring & Firing System" is perfect for you.  I promise you can pop in the CD's (or download the MP3's) and get a ton of value that you can act on immediately.
But if you're someone who is thinking "this is great but I wish someone would just come and do this for me" then this next option might appeal to you.
Option #2: THE DELUXE SYSTEM includes everything in Option #1 ($997) plus…
A Customized Position Benchmark – This benchmark measures the competencies, behaviors and rewards of the position so you know exactly what type of person you need to hire for success. ($2700)
Candidate Assessments – Then we will assess the Behaviors, Values and Competencies of your top three candidates for the job to see where they fall against the benchmark. ($900)
Person-to-Position Comparison – Using a simple, red-yellow-green zone comparison of the candidates to the job (green means go, yellow means caution and red means stop), we will discover any areas of the job your candidate may struggle in. ($300)
Targeted, Specific, Behavioral Interviewing Questions – We will design questions for you to ask your candidates to address those areas where they don't match the position benchmark. ($300)
Employee Onboarding Process – This process includes a conference call with the new employee and their manager to review their results, as well as the job benchmark and how they compare to it, a 30-day fast start process to ensure employee's progress right out of the gate, and a performance binder to track results, ($600)
90 Day Check-In – We will schedule a conference call with the new employee and manager 90 days into employment to review progress made and discuss any concerns about performance. ($300)
Total value is over $6000
Your investment is only $2997.00
**BUT WAIT…Both Options 1 & 2 come with 1-month FREE of my Hiring & Firing VIP Club Membership which includes…
Monthly Q&A Call-in times.  Any questions you have, you will be able to ask me directly at dedicated call-in times during the month. (Value $75 each)
24-hour Email Access.  If you absolutely cannot wait until the monthly call-in, you can send me your questions by email.  (Value Priceless!)
Weekly Emailed Hiring & Firing Tips.  These tips and strategies will be sent to your Inbox every 5 days!  It's a great way to keep focused on your number one asset – the right people! (Value $20 each)
Updates & Revisions – there is always more to learn in the areas of hiring, managing, and firing.  You will stay current with the latest information and be privy to latest, groundbreaking news I only share with my Club members. (Value Priceless!)
2 FREE DISC Behavioral Assessments.  You can use these with employees or if you're really curious – your spouse or teenagers! (Value $200)
50% Off Attendance to any DISC Certification course.  At some point, you may want to have someone from your organization certified in the DISC tool.  The benefits are you will have someone internal to interpret results, lead trainings and seminars, and save 25% off any additional DISC products.  (Value $1000)
Since this program is the most important part of keeping you on track and giving the support you need, you'll get a month free just to check it out.  After that, you will automatically be charged $29 each month for six months to maintain your membership.
[You can cancel your membership at any time with a simple 30-day written notice by email, fax, or mail.  But trust me, you won't want to!]
When you realize the power of what I have to share with you, and how it can and will change your organization when you implement these tools, you know it would simply be foolish NOT to take advantage of this membership program.
Remember, I have directly helped many companies DRAMATICALLY improve their hiring (and firing) success…
While you may be familiar with The DISC Wizard, I know there are some of you reading this page who may be new to my circle. Just to let you know, I have helped small and large business owners with their individual, team and organizational performance.
Here are just a few quick examples…
Because we read Nancy's "Little Red Book for Hiring and Firing" our leadership team had more resolve to act. The manner in which we dealt with a very difficult firing turned into a very good team building tool. Surprisingly, once armed with the right tools we were able to make a difficult but unanimous decision.

~ Scott Reppert, CEO, Superior Health Linens, Milwaukee, WI
We did indeed offer the supervisor position to the employee we assessed last month and she is doing a great job.  She's also much happier in this new position…it's a much better fit for her.  Not only has she commented on this, but many other co-workers have even passed along great compliments.  So…you could say it's going very well!  We really appreciate your insight and help in making this decision.  Thanks again for your help.

~ Andrea L. Holland, Operations Manager, ExecuScribe, Inc., Rochester, NY
And this is just a small sampling of the success stories that I receive every year.
If my methods have worked for them – owners and managers from very diverse businesses — can't you see the possibility that they will work for YOU too?
So think about it…
How would it feel to…
Hire every time with complete certainty of how the new employee will perform?
Feel good about your decision to let certain people go?
Be crystal clear about your expectations when managing employee performance?
DRAMATICALLY increase your retention of only talented, productive employees?
See the huge payoff of finally having the right people in the right positions?
Let me show you how to do this, once and for all.
Click on one of the links below now and you'll get all the information you need to get started…
**
NO-RISK RESERVATION FORM

**
"Yes DISC Wizard, I'm ready
to learn the Strategies to Hiring & Firing"
so I can make hiring mistakes magically disappear.
Choose the option that's right for you:
Option #1: "The Boost Your Bottom Line With The 7 Strategies to Hiring and Firing System"
SECRET #1  –  HIRE  SLOW / FIRE FAST
SECRET #2  –  KNOW WHAT YOU WANT
SECRET #3  –  FIND GREAT CANDIDATES
SECRET #4  –  KNOW WHO YOU'RE HIRING
SECRET #5  –  INTERVIEWS THAT REVEAL WHAT  YOU WANT TO KNOW
SECRET #6  –  NOW YOU'VE GOT EM.  NOW WHAT?
SECRET #7  –  NO MORE MR. NICE GUY
Option #2: The DELUXE System (includes everything in Option #1 plus customized do-it-for-you features)
Purchase the DELUXE System Now
I understand that I'm investing in your system at NO RISK whatsoever, because it comes with a full money back guarantee, which I can request anytime up to an entire YEAR from purchase!
I look forward to helping you hire, manage, redeploy and fire (if necessary) to improve your organization's productivity and profitability!
Wishing You Success,
Nancy Roberts
P.S. – Remember, if you're not ecstatic about this system, you can ask for a full refund. But you can't benefit from all the great information I have to share until you order your copy now!
P.P.S. If you have any questions that I haven't answered, please call 888-347-2949 and hit "0" to leave your question. We will get back to you in a flash.
P.P.P.S. If you're not quite ready to buy this system but you know you have to do something, click here for another option.
Nancy Roberts
iNsights.pps
PO Box 223
East Rochester, NY 14445
Toll-free: 888-347-2949
info(Replace this parenthesis with the @ sign)discwizardonline.com
© Copyright 2014 iNsights.pps