PERFORMANCE MANAGEMENT
Performance management is defined as the use of interrelated strategies and activities to improve the performance of individuals, teams and organizations.
That sounds like a fancy, Dilbert-esque definition.  I'd like to think Performance is much easier to understand.  Here's a simple equation:
Right person + Clear expectations + Continuous feedback = Performance
As the DISC Wizard, I like to keep things simple.  So, my clients use the same system to manage performance as they do to hire talent. 
Through a four-step process, you will determine who has the natural talent to do well in the job, who may need additional training or coaching, and lastly who may need to be redeployed to another position or fired.
Benchmarking the position
Assessing your current employees in that position
Looking at current performance
Determine next steps for each employee
Then, using a four-cell model, we can easily determine next steps in the development process.  We determine if the employee fits the job (compared to the benchmark) and how they are currently performing in the job.
As you can see by the diagram below, depending on where the employee is placed on the diagram, the next steps will vary.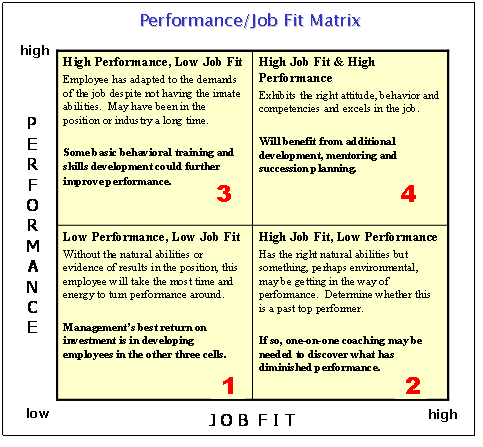 In cells 1 and 2 (the most critical cells to deal with because of low performance), we use coaching to determine if they can improve and then we either 1) improve individual's performance in the position or 2) help them transition to either a new position or a new employer.
And while one-on-one coaching with the DISC Wizard might seem like the best solution, there is better, more cost effective, longer term value solution.
info(Replace this parenthesis with the @ sign)discwizardonline.com or call the DISC Wizard today (1.888.347.2949) to discuss the different options for your specific retention needs.