"How to Improve Your Sales Without Sitting Through Yet Another Sales Training or Seminar"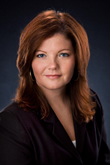 Hi, I'm Nancy Roberts. Whether you sell for a company or your own business, sales is the lifeblood of your organization.  Your personal and professional success depends on your ability to convert leads into prospects and prospects into customers.
In the second of year in my business, with dismal sales as an incentive, I enrolled in a sales coaching program thatguaranteed success!  All I had to do was call into monthly teleconferences, do the homework and I would see mysales skyrocket!
I'm sure you know what happened.  While the information was good, I did nothing with it.  Not only did my sales not improve, I had laid out a bunch of money on the program.  This is the same scenario that countless others have shared with me – so I know I'm not alone.
When we continue to not see the results we want, we tend to blame the economy, our industry, lack of training our company provides, product changes, the list goes on and on.  Yet while we're scrambling for excuses – there are always other salespeople doing quite well in very similar situations.
So what it is that they know that we don't?
Perhaps it's not what they know.  Perhaps it's something they are.
Particularly in sales, you need to start with the right psychological profile rather than just an outgoing personality or great product.  This psychological profile is based on your values, motivation, and behaviors.
Are you inherently motivated to sell?
Do you have the right behaviors to sell?
Can you recognize and change what isn't working?
If you CAN'T answer "yes" to each of the above questions, you may be losing sales every day.
So how do you go about figuring out if you have the right psychological profile for sales?  Well, you could spend thousands of dollars on a sales coach.  Or you could spend a lot of time attending sales conferences and seminars hoping to figure it out.
Or you could "stop the madness" and take a real honest look at yourself.
The great thing is that all of the qualities that make up the right psychological profile can be easily and quickly determined through a Sales Assessment Process.
Through this process, what you discover is not: YES you can do sales or NO forget it, don't even try.  What you find out is where you currently are and what you need to change to get where you want to go.
This Sales Assessment Process is like a GPS system; if you don't know where you are – it can't guide you to your desired destination.
I first started withan assessment of my strengths and weaknesses in my sales position. Upon completion, it was evident that work was required on specific issues. I was able to significantly change my behavior at work which ultimately resulted in increased sales and strengthened relationships with difficult clients. It was highly evident when I retook the assessment and my sales behavioral changes were verified. I certainly appreciate the work Nancy has done in helping my career.Patrick G. Waterman
Director of Business Development
Rochester NY
Let me state that again – this process will not say YOU SHOULD NOT BE IN SALES.  However, it will give you an indication of what type of sales environment you would thrive in.
One gentleman was referred to me after working for seven years selling elevators.  He wasn't performing well and was feeling really bad about letting down the owners of his company.  I recommended that he go through the Sales Assessment Process.
What he discovered was that while he had a "selling-personality", he had no passion for that particular industry or product.  (Does anyone? I imagine in that industry sales would always be up and down.  Ouch!)  He further realized through a Values assessment, that he was passionate about advising and coaching leaders in his church.  When he thought about "selling" his coaching services to new pastors in different churches – he got really excited by the possibility.
He stated, "I can't believe such clarity can come from a simple assessment process."
This process will give you an honest look at your strengths and weaknesses in three key areas:
Your values – and if you are highly motivated to sell (the WHY)
Your behavior – and whether your natural behavior suit the type of sales you're in (the HOW)
Your knowledge – do you know what you need to about the sales process (the WHAT)
This diagram shows that where Values, Behavior and Knowledge intersect, High Performance (WILL) is the result!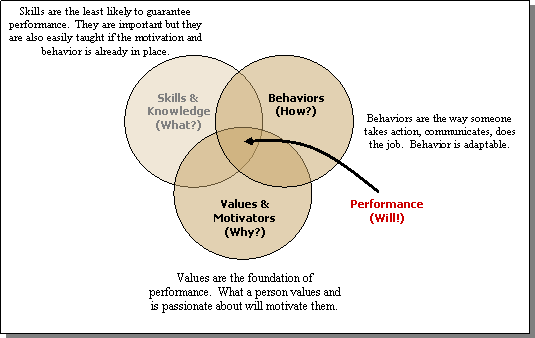 When I completed the Sales Assessment Process myself, I discovered a few key areas that were holding me back.  I went to work on adjusting and adapting those few areas and not only did sales become easier and more enjoyable, I also got better results.
If you're ready to find out what you need to take your sales to the next level, you can purchase the assessment process now.
Purchase Sales Assessment Process
Not convinced yet?  Here are the benefits you can expect from completing this process:
BENEFIT FOR SALES PEOPLE
Locate your hidden barriers to sales success.
Find out once and for all if you are intrinsically motivated to sell.
Determine what behaviors you need to adapt or modify for greater success.
Test your sales knowledge and identify the areas you could use some additional training.
BENEFIT FOR SALES MANAGERS
Boost your sales – the ultimate goal of any business.
Objectively evaluate the performance (and potential) of both new and existing salespeople.
Show you the strengths and weaknesses of your sales team.
Know how to recognize and hire top sales performers.
Simply put, this process can save you time, make you money
and most importantly, reduce stress. 
Ready to hear how it works? 
We will email you a link to access your assessments.
You go online and complete three different sales assessments (Values, Behaviors, Skills).  This will take you 30-45 minutes.
You receive your results immediately in .pdf format by email.
After reviewing your results, you call in to receive a 30 minute personal consultation.
The assessments can be taken when it is convenient for you.  And the consultation is set up at a time that is good for you.
One thing I've learned about Top Sales People is they know themselves.  To stay at the top of their game, they study themselves and never pass up an opportunity to learn something new.
This process is regularly $500 and I've been told the information isworth 10x that amount.  To encourage more of you to try it, I've decided to continue to offer a special price – $247.  That's still 50% off!
In addition to the special rate, I am including several bonuses that will make this process a no-brainer for you.
Bonus #1: You will receivea downloadable copy of my Powerpoint Presentation"How to Sell to the DISC Styles".  This is the presentation I use when I teach my Behavioral Selling Techniques Workshop.  It walks you through how to recognize the different styles and what to do and what NOT to do to sell each style.
Bonus #2: You will receive a copy of a Groundbreaking Research Project that identified the core Value or Motivator that most Top Performing Sales People possess.  You will be able to look at your own results and see if you have this value!
Bonus #3: A special report "The Secret to Hiring Superstars" that reveals the easiest, fastest, most reliable way to hire top performing sales people.  You won't believe how simple it really is to build an A-Team!
I am so confident that you will immediately find incredible value in the Sales Assessment Process, plus these great bonuses, that I am backing it with a 100%, No Questions Asked, Guarantee.  If you are not completely satisfied with the results, you can request a full refund.  And you get to keep everything – there's nothing to return!
Purchase Sales Assessment Process
With this one decision, you are on your way to Super Sales Success.
Wishing you much success,
Nancy E. Roberts
The DISC Wizard
P.P.S. This offer comes with a 100% money back Guarantee.  If for any reason you are not thrilled with your purchase, you may request a full refund.